As of 2021, there are approximately 3.78B social media users around the world (up from 2.5 billion users in 2017).
In the coming years, social media use is projected to continue to grow.
And evolve to reflect changing user preferences.
1. Social Media Emerges As A Shopping Platform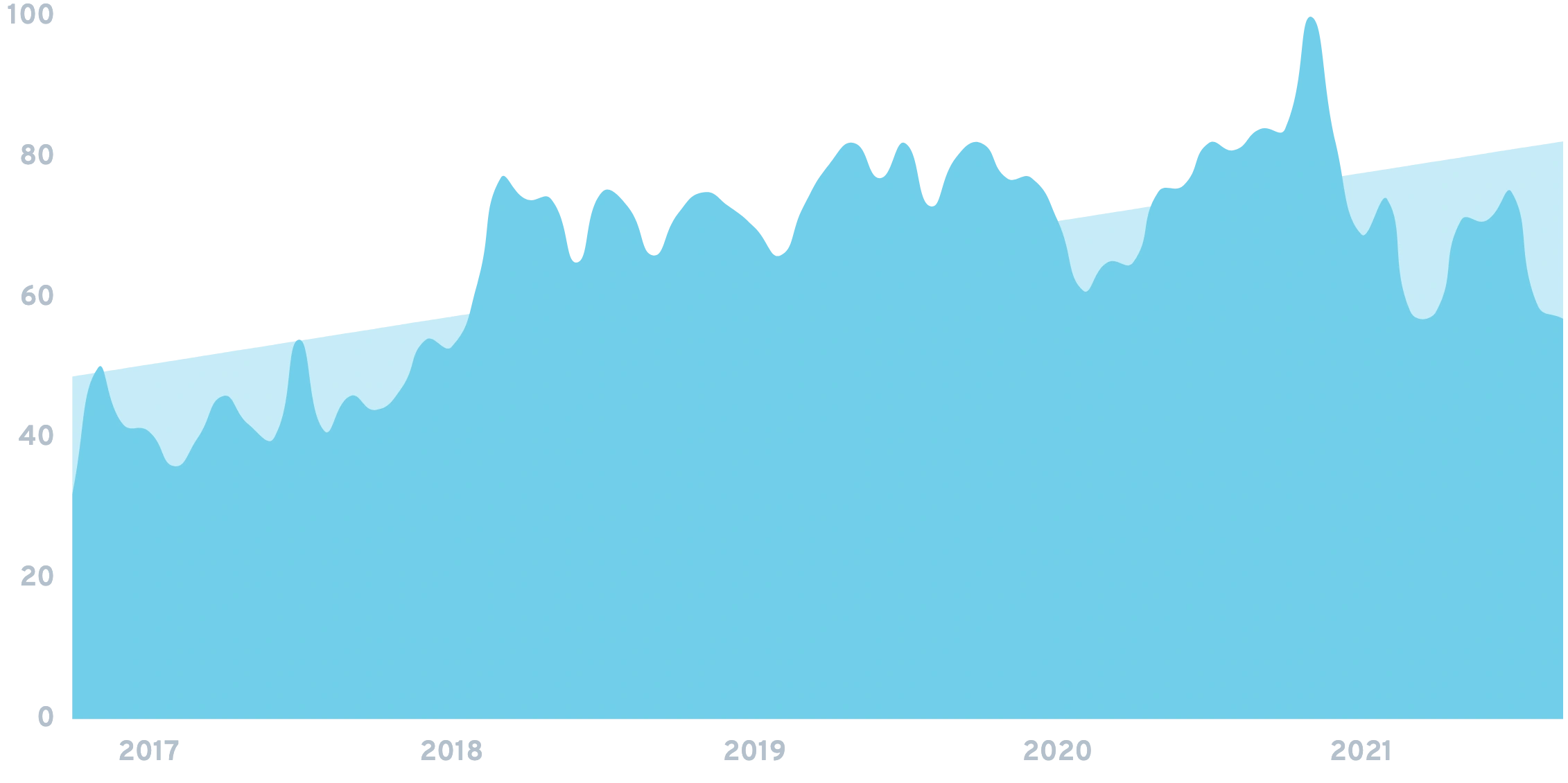 Searches for "Instagram shopping" increased 78% over the past five years.
As shopping became more virtual during the pandemic, social media platforms became an increasingly popular shopping outlet.
In fact, the number of social commerce buyers in the US has increased by 25.2%, reaching over 80 million.
And that number of forecast to exceed over 100 million by 2023.
As many as 18% of US consumers hit a "buy" button on a social media platform last year, compared to 13% in 2019.
Also, 6% of US consumers purchased something from a shoppable social media story in 2020, compared to only 12% in 2019.
Younger people are significantly more likely to shop on social media platforms.
Approximately 37% of shoppers ages 15-22 used the "buy" button on social media, and 30% purchased something from a shoppable social media story.
Instagram is one of the leading social ecommerce outlets.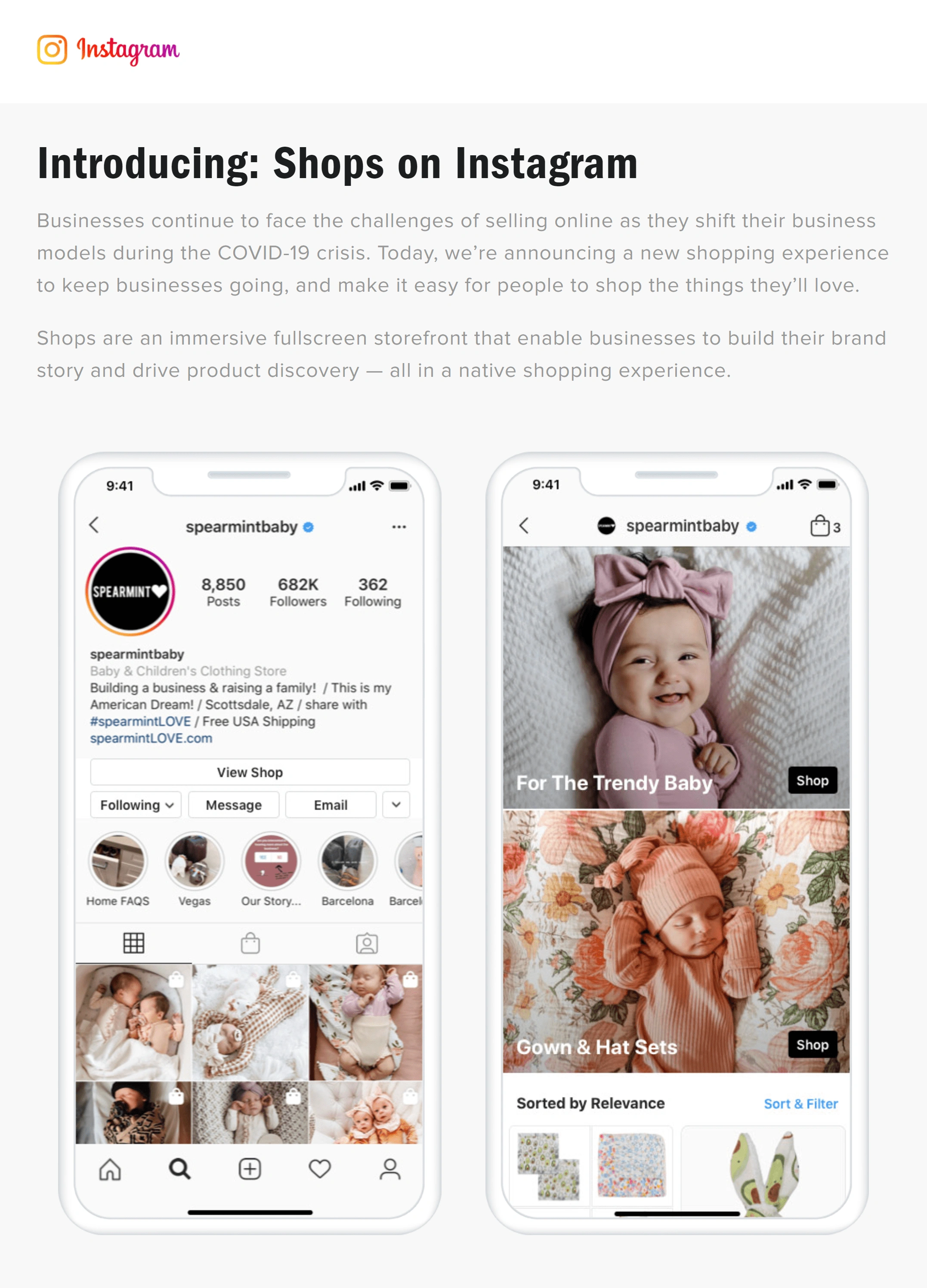 Instragram shopping is now an integral part of the app's experience.
In fact, many as 70% of consumers look to Instagram to discover a product.
And approximately 90% of Instagram users follow at least one business page.
However, Facebook leads the way as a top choice for social commerce.
In 2020, Facebook added Facebook Shops to its range of shopping tools, which include Facebook Marketplace and shoppable ads.
Facebook Shops allows users to create a single online store that is shoppable from Facebook or Instagram.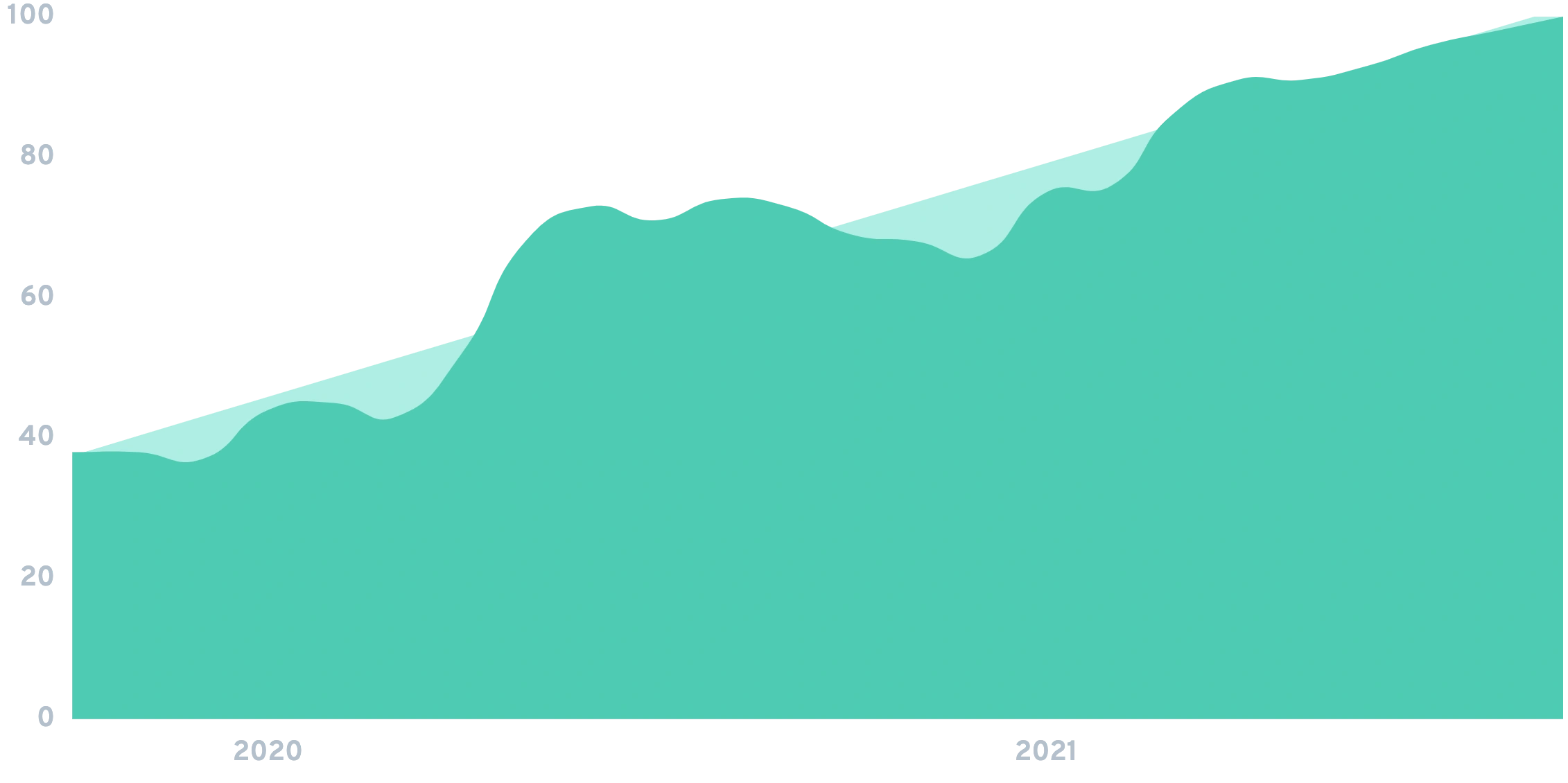 Online searches for "Facebook Marketplace" increased 163% in the past two years.
Other social media platforms are projected to enter the playing field in the future.
For example, at the end of 2019, TikTok started experimenting with product links.
As the social commerce space expands, social media platforms are likely to adapt features that make shopping easier for users.
For example, Instagram currently has Instagram Checkout, which allows users to shop from the platform without having to go to a third-party site.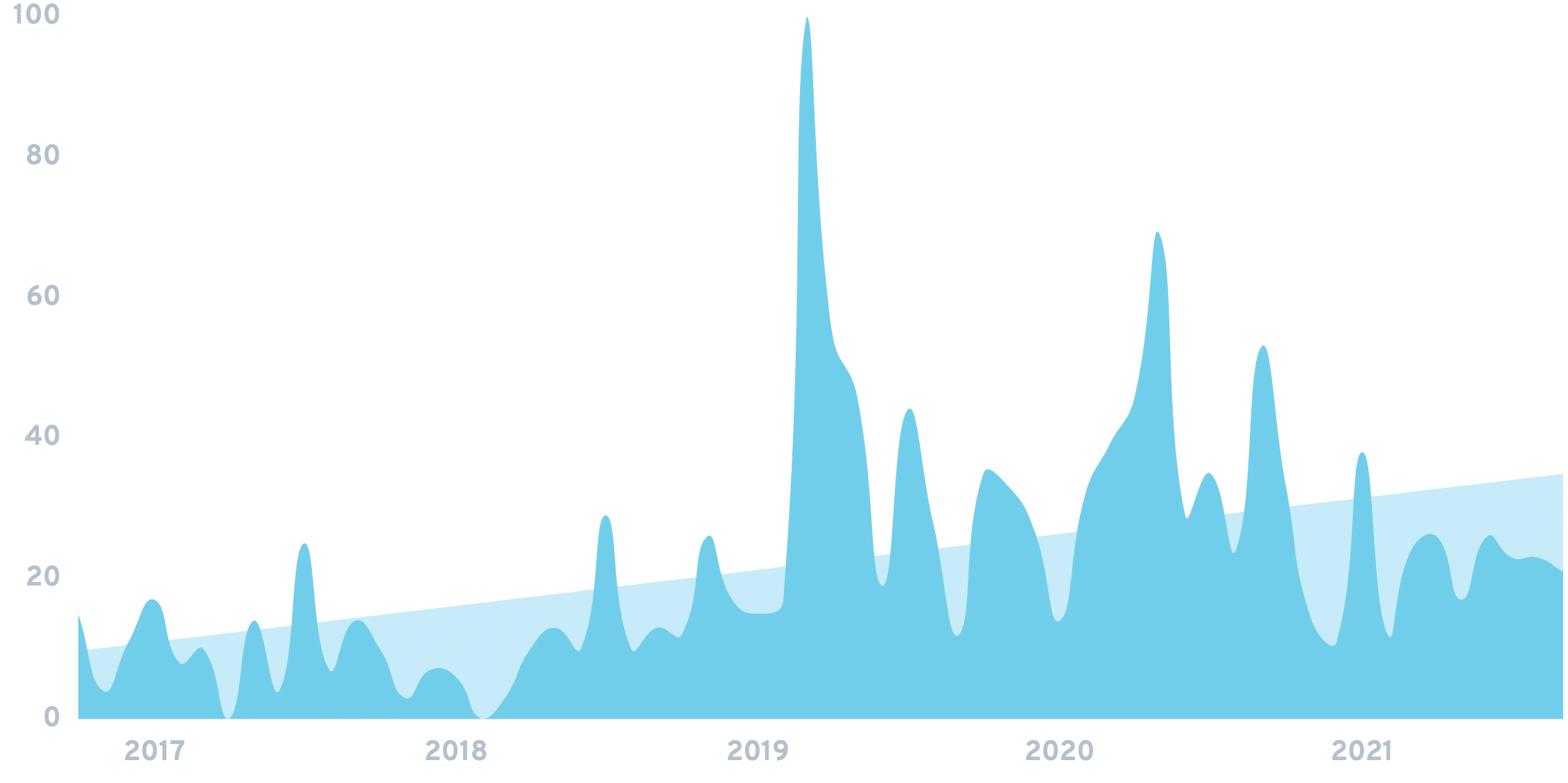 Search growth over 5 years for "Instagram checkout" is up 40%.
Social media platforms are also likely to introduce features to allow for easier conversational marketing.
For example, Facebook Messenger enables over 2 billion messages to be exchanged monthly between consumers and businesses.
Facebook Shops enables consumers to contact businesses via Messenger, WhatsApp, or Instagram Direct and to make purchases directly from these chats.
Consumers are becoming more reliant on social shopping and purchasing features.
An estimated 33% of consumers prefer to have a customer service interaction on social media versus the phone or email.
About 42% of users who submit a customer service request on social media expect a response within an hour.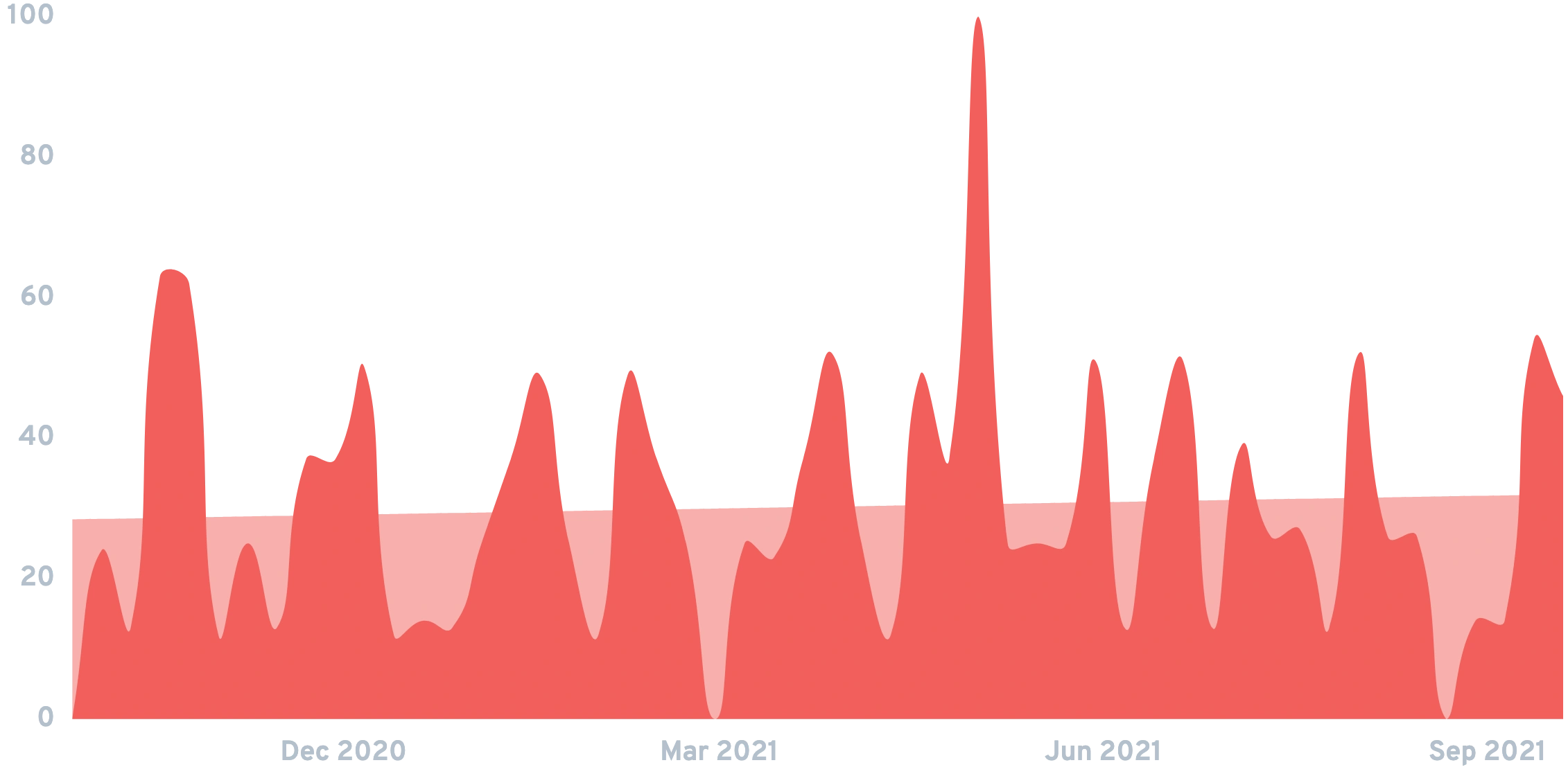 Searches for "conversational marketing" increased by 4,500% in the last year.
2. Proliferation Of Short-Form Video Content
In many cases, video posts perform better than static photo posts on social media.
In some cases, Instagram videos received twice as much engagement as photo posts.
According to one study, as much as 82% of online content will consist of videos by 2022.
TikTok is a social media platform that is dedicated to short-form videos.
In the first three months of 2020, TikTok was downloaded 315 million times around the world, setting a record for quarterly downloads by any app.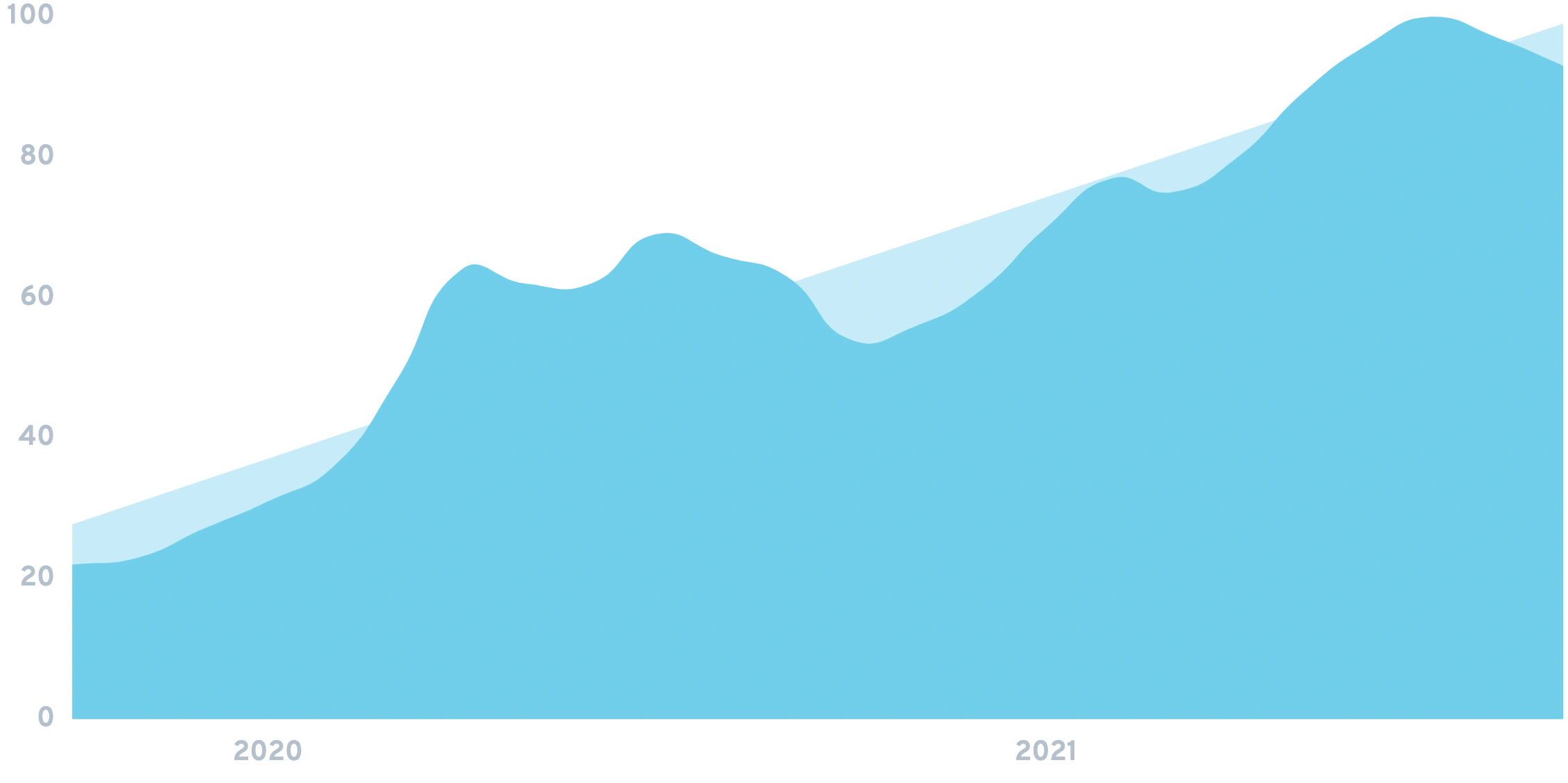 Searches for "TikTok" saw a jump of 322% in the past two years.
Other social media companies are creating more options for short-form video posts.
To compete with TikTok, Instagram launched Instagram Reels in 2020.
Reels allows users to record and post videos up to 30 seconds in length. This is on top of Instagram's two other video options, IGTV and Stories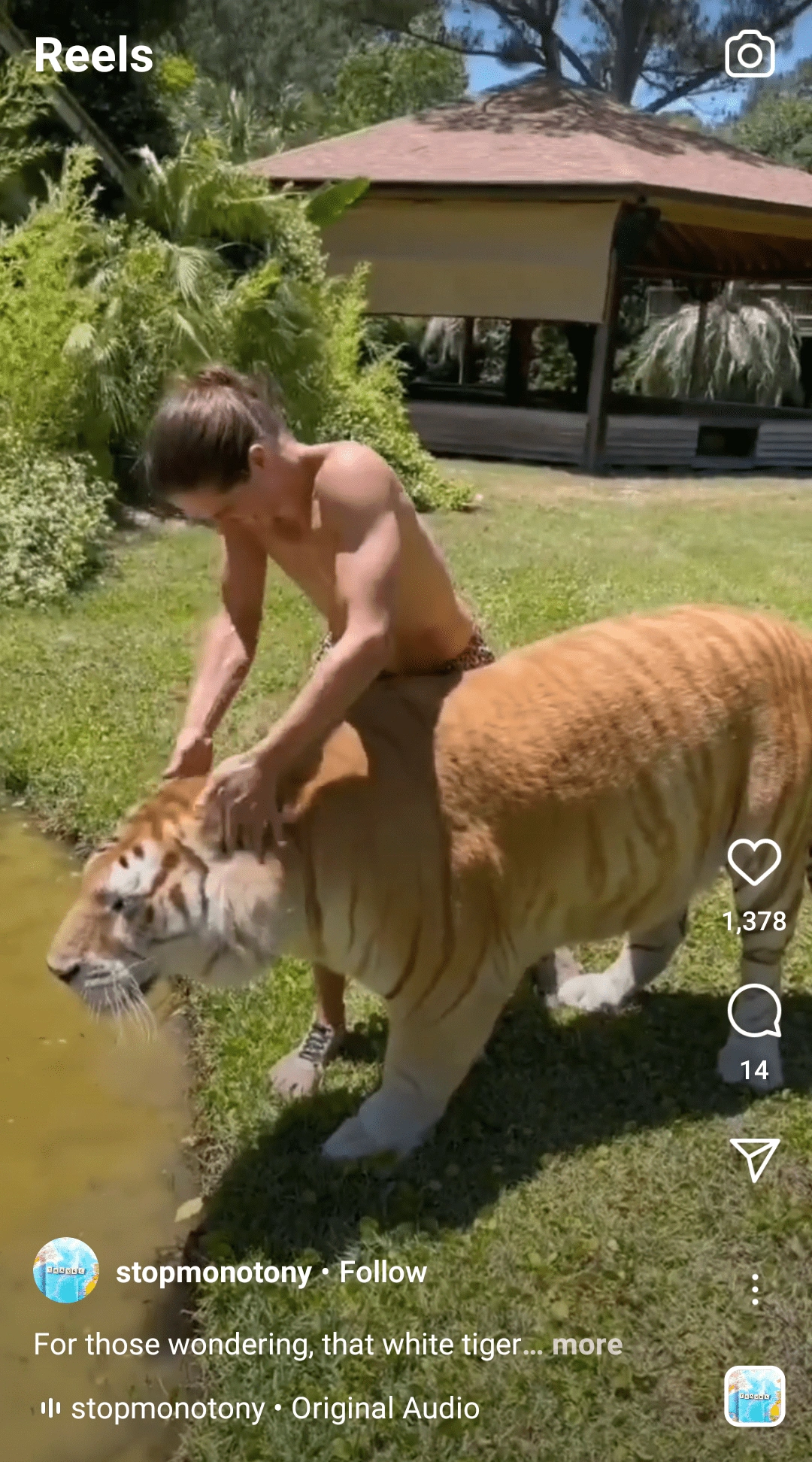 Example of an Instagram Reel.
The NBA found that engagement with their Instagram Reel posts was in some cases twice as high as with their regular video posts.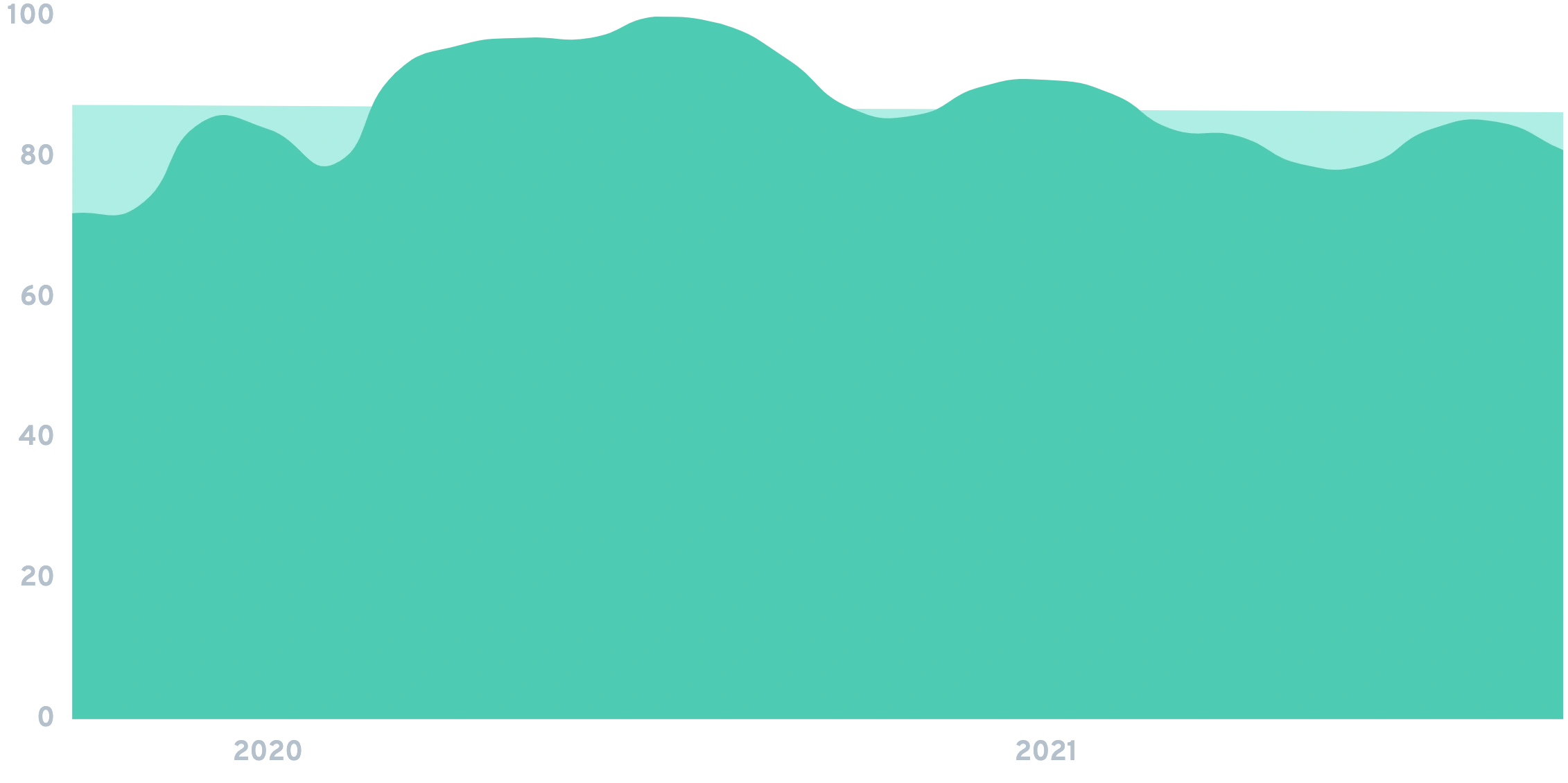 Although they did not keep up with TikTok search numbers, online searches for "Instagram Stories" still saw a 12% increase in the past two years.
YouTube also rolled out a new feature in 2020, YouTube Shorts, as a TikTok and Instagram Reels competitor.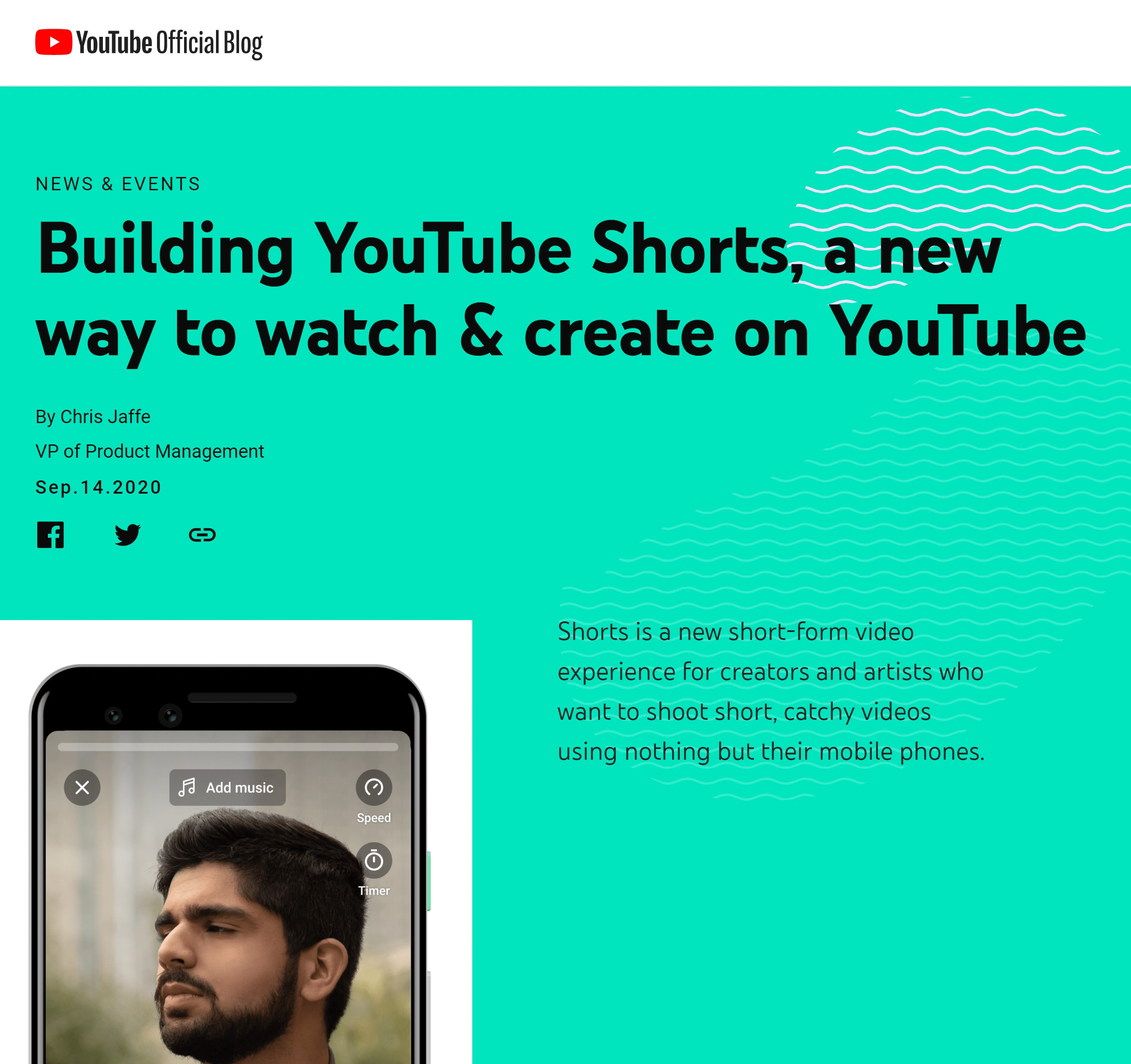 YouTube Shorts is YouTube's answer to TikTok.
YouTube Shorts allows users to post 15-second videos.
Though it is in its infancy, YouTube Shorts is already getting 15 billion views daily worldwide.
While short-form video options are growing, longer videos are not going anywhere just yet.
As more people shifted online during the pandemic, live streams were increasingly used to host public events and meetings.
The live streaming industry grew by 99 percent in 2020, and is expected to continue growing in 2021 and beyond.
The most popular live video platform of 2020 was Twitch, which grew 50% from March to April alone and 101% over the year.
Users are spending approximately 1.645 billion hours watching videos on the platform per month.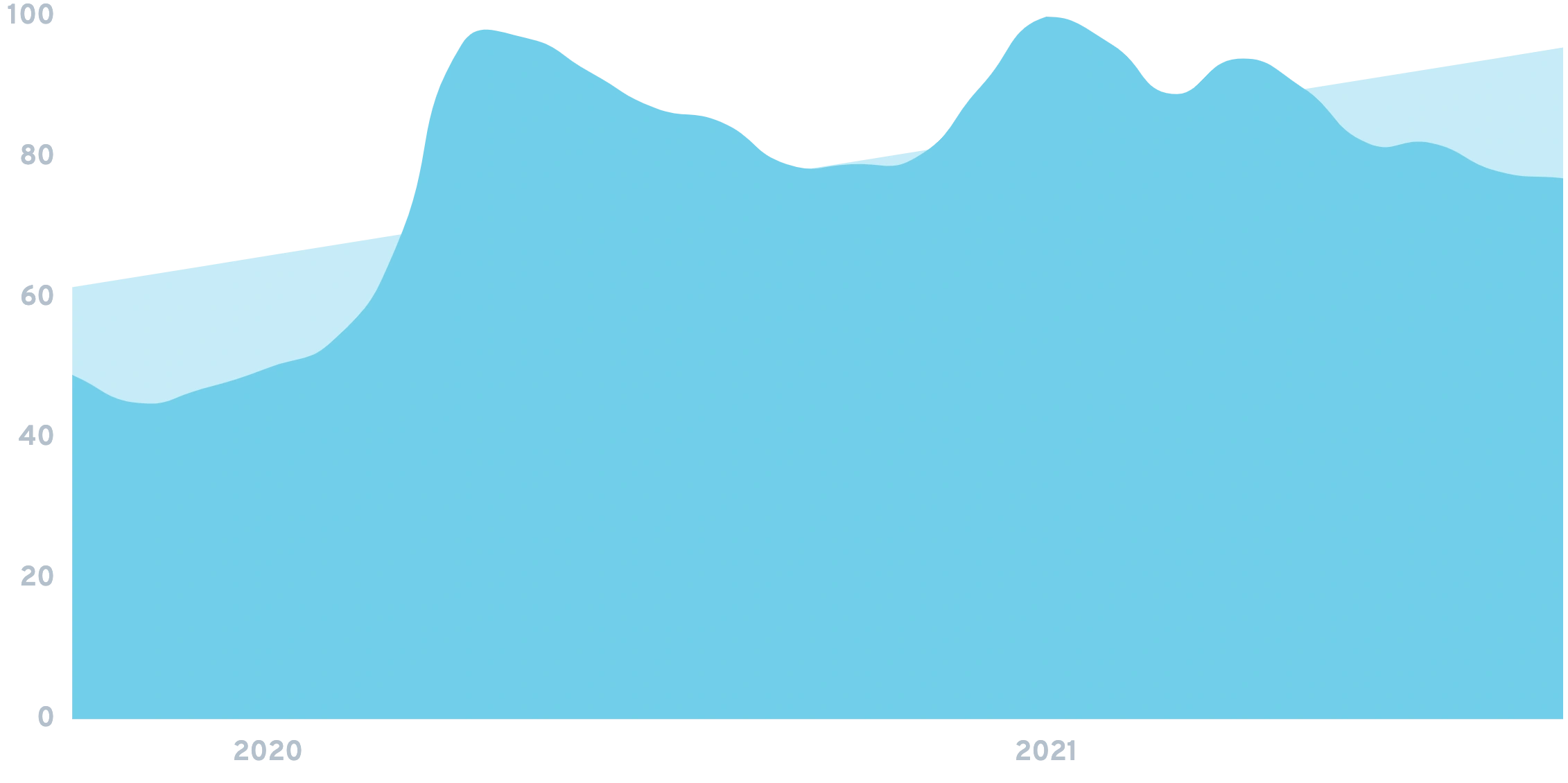 Online searches for "Twitch" increased 57% since late 2019.

3. Social Media Becomes Part Of Daily Life
More than 72% of Americans were on social media by the end of 2020, a 4.3% increase from the year before.
Social media use in Canada is even higher, with over 84% of Canadians reporting that they use social media.
Not only is the number of social media users growing.
But the amount of time that users are spending on social media platforms is growing too.
On average, people spent about 145 minutes on social media every day. This is about one hour longer than people were spending on social media in 2012.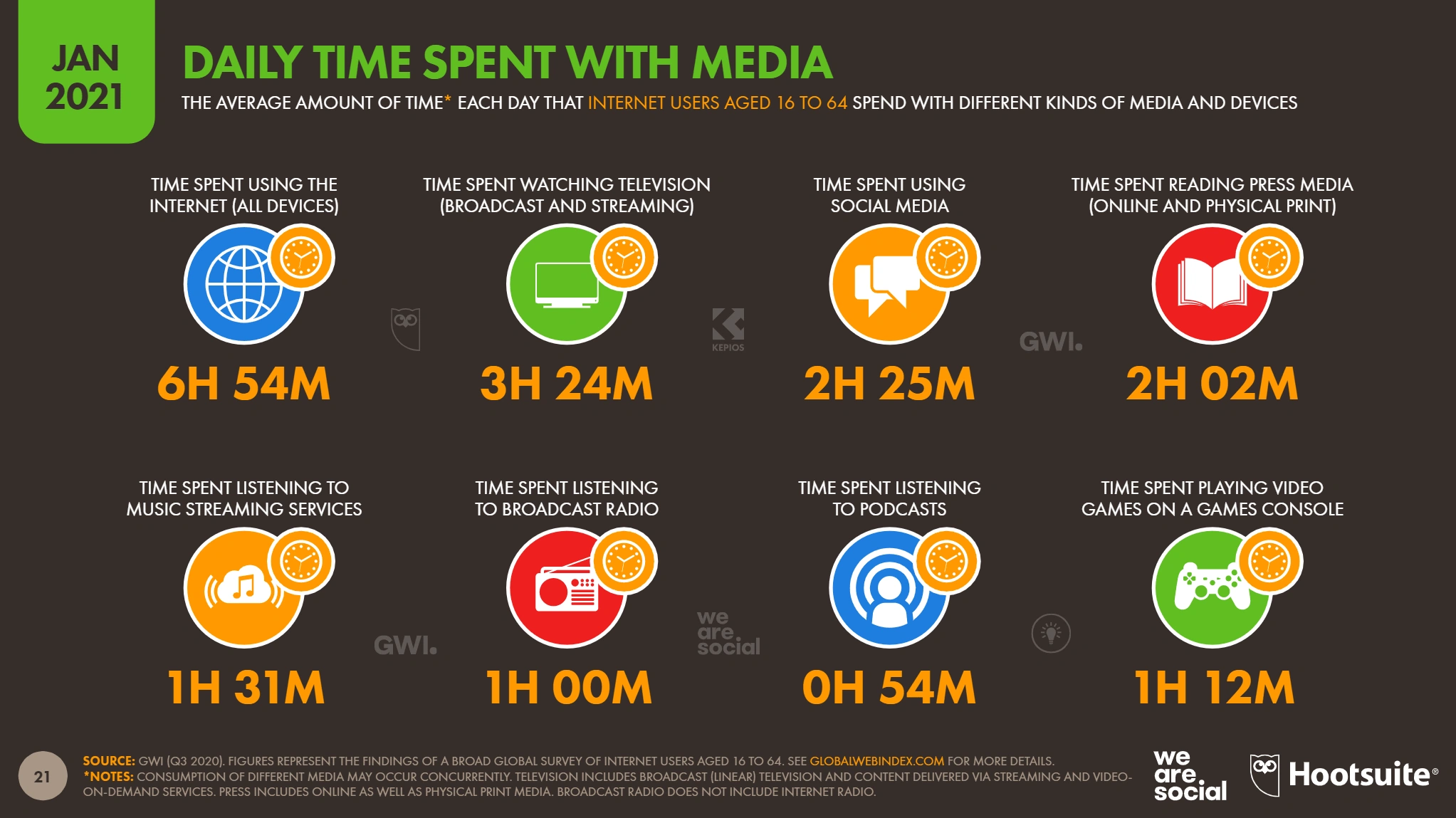 Social media users are spending more time using the platforms than ever before.
Overall, social media usage (including messaging apps like Whatsapp) went up 21% globally during the pandemic.
Which is making social media an increasingly popular channel for marketers.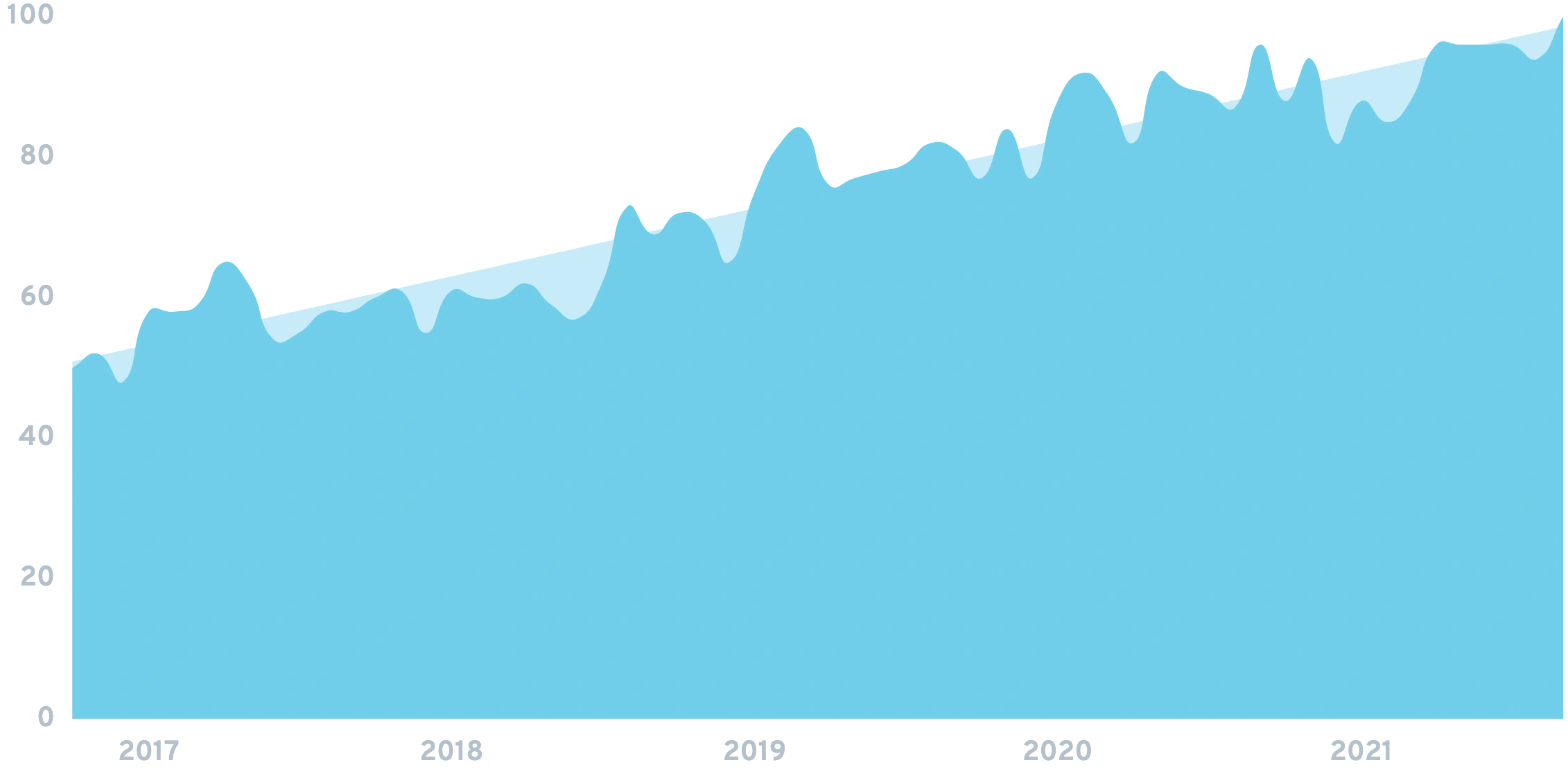 Online searches for "social media marketing" have increased by 100% over the past five years.
The world's growing dependence on social media (and their underlying algorithms) has fueled calls to disconnect and initiatives to reduce social media reliance, like National Day of Unplugging and Digital Minimalism.
However, these campaigns are unlikely to reverse social media's upward trajectory in the near-term.
There's also the growing trend of social media influencers.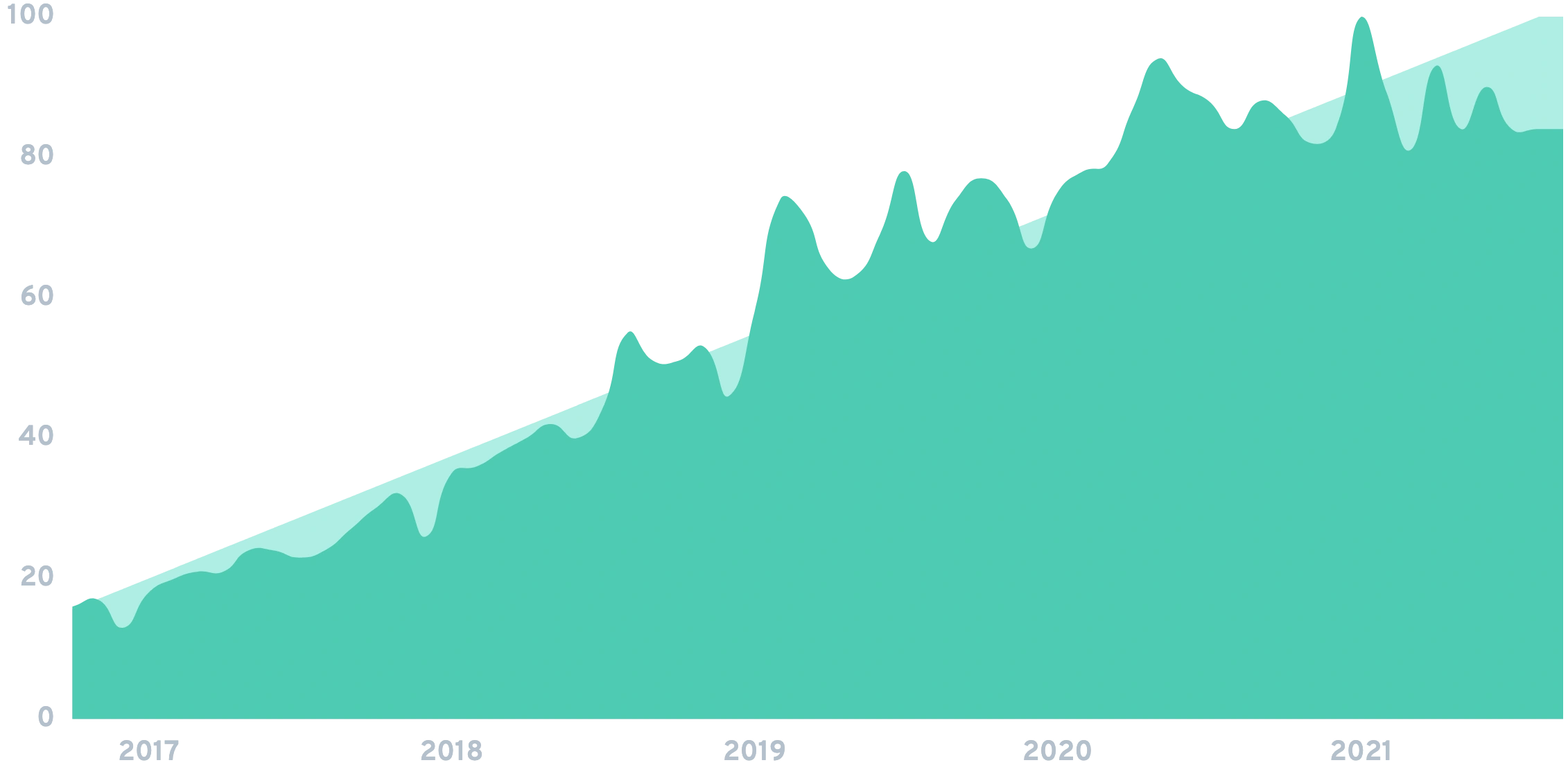 Search growth for "influencer marketing" have increased by 425% since 2017.

Which is not just impacting how businesses approach digital marketing.
But this social media trend is also creating millions of mini empires for folks with large followings on Instagram and YouTube.
4. Facebook Remains On Top (For Now)
Facebook remains the most used social media platform in the world, followed closely by YouTube.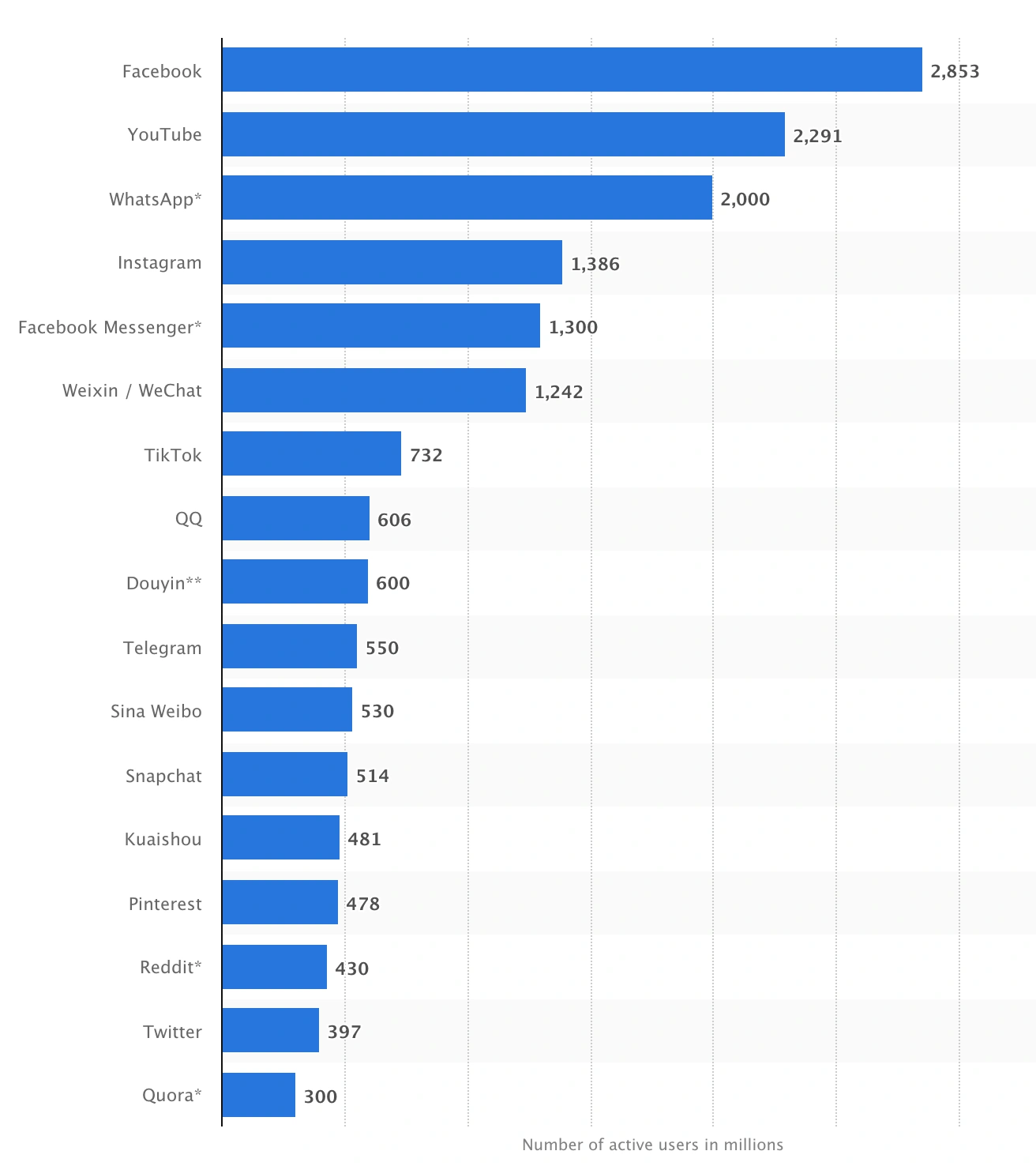 Facebook remains the #1 most-used social media platform on the planet.
Instagram and TikTok were the fourth and seventh most popular platforms in the world.
Despite some negative press coverage, Facebook's growth is not letting up.
The platform currently has about 1.845 billion daily users and had about 22 billion total visitors in August 2021.
The average user spends about 58 minutes on Facebook each day.
On the other hand, the average YouTube user spends about 40 minutes using the platform.
YouTube has an estimated 30 million daily users and had about 35 billion total visitors in August 2021.
Instagram has 500 million active daily users and had over 6 billion total visitors in August 2021. The average user spends around 53 minutes on Instagram.
Google searches for "Instagram" have remained on an upward trajectory and have grown 67% in the past five years.
The average TikTok user spends approximately 52 minutes on the app daily.
While some younger users spend on average 80 minutes on the app daily.
There is no shortage of new social media platforms being launched each year.
Clubhouse, an invitation-only social network based on audio chats, has received widespread attention since it launched in 2020.
Despite the success of some new platforms, like Clubhouse, the major players outlined above are expected to continue to dominate the market in the coming years.
5. Shorter Attention Spans Result In More Bite-Sized Content
Yes, people are spending more time on social media.
But they're spending less time engaging with individual posts.
Studies suggest that the attention span of the average person today is 8 seconds.
(Down from 12 seconds 20 years ago.)
People who access social media content on their computer tend to spend slightly more time on each piece of content than those on mobile devices.
For instance, people who accessed Facebook from their computer spent on average 2.5 seconds on a piece of content.
While those who accessed Facebook from their phones spent 1.7 seconds on the same content.
Social media sites are adjusting to this by increasingly offering bite-size content options such as short-form videos and ephemeral (disappearing) content.
In late 2020, Twitter introduced Fleets, a feature similar to Snapchat and Instagram Stories.
Fleets allows users to post messages and short videos that disappear after 24 hours.
Though Fleets has only been around for a few months, initial feedback seems to suggest that it boosts user engagement.
6. More Augmented Reality Options
The Augmented Reality (AR) market is still in its infancy.
But is projected to gain momentum in the coming years.
Approximately 48% of consumers are projected to use AR in some form by the end of 2021.
AR and VR are expected to become more mainstream as cell networks become stronger and faster.
By 2023, the AR market is projected to be generating $70-$75 billion in annual revenue.
Social media networks are getting in on the trend early.
AR has been incorporated into Instagram filters since 2017. In 2019, Instagram stepped up the AR game even further with an option for users to create their own filters.
Usage statistics suggest that filters can quadruple the engagement time of videos.
User engagement with filters is approximately 75 seconds, driving brands to roll out their own filters that followers can interact with on social media.
Social media platforms and businesses are sure to find other ways to incorporate AR into their platforms.

And number of apps that feature AR is likely to increase in the coming years. Many of which will likely be dedicated to discovering (and virtually "trying on") new products.
Pokemon Go, which has been downloaded more than one billion times, was likely just the beginning.
Facebook is also set to launch its glasses sometime this year, with the goal of allowing people to more easily record memories without needing to use their phones.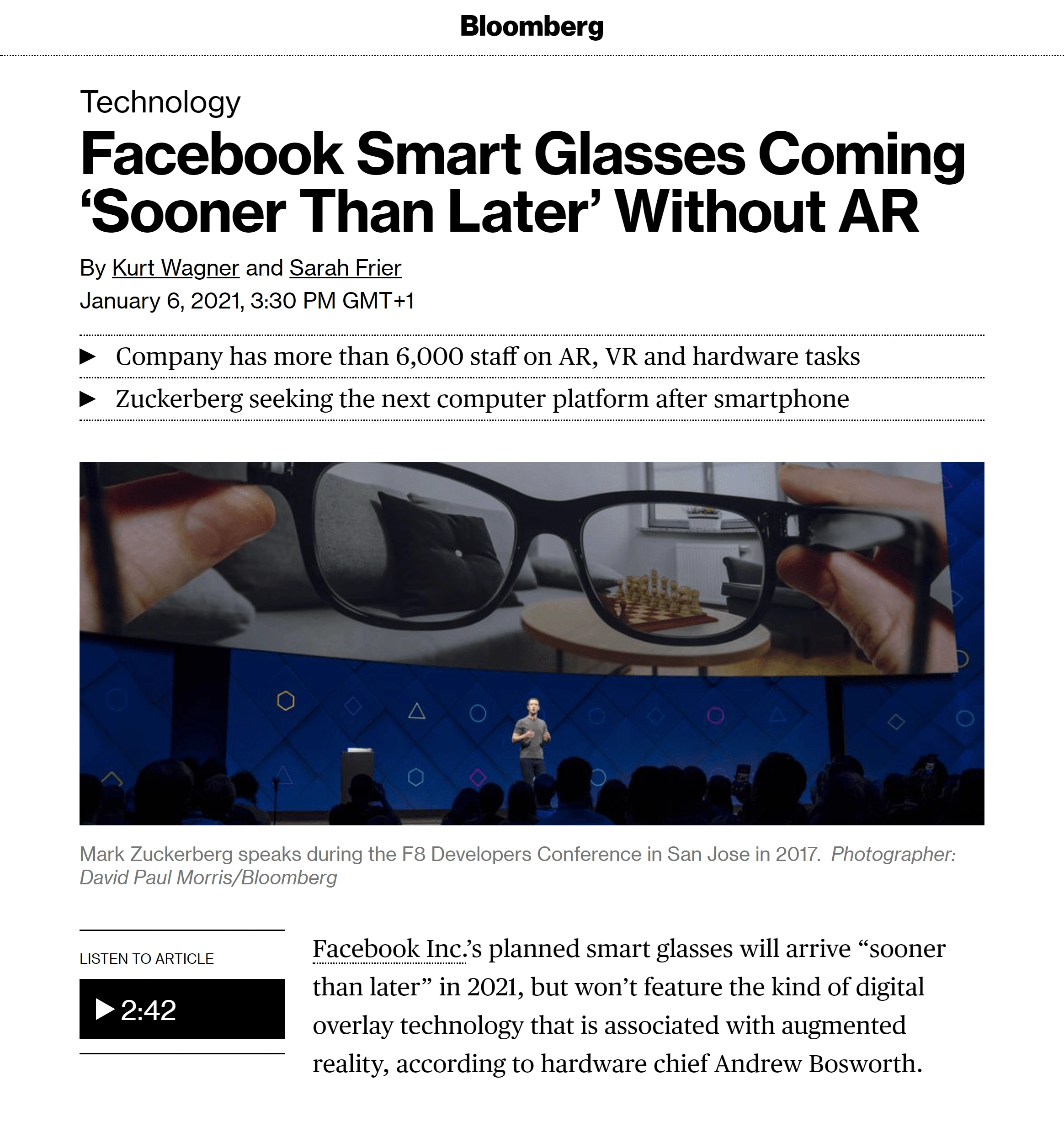 Facebook's glasses were released in September 2021.
7. Growing Utilization Of User Generated Content
Businesses are increasingly incorporating user-generated content (UGC) into their social media marketing strategies.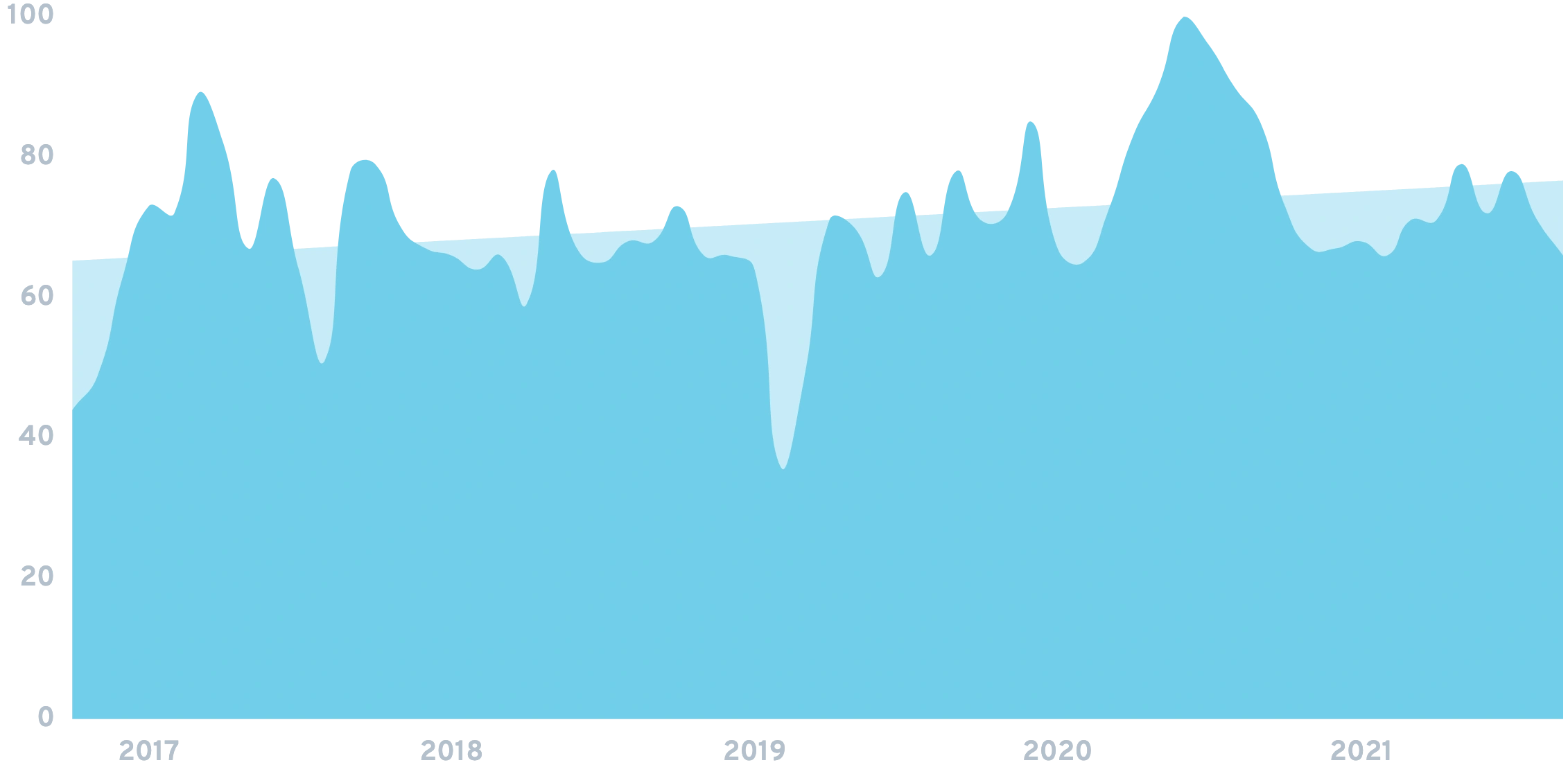 Online searches of "UGC" peaked, despite a 48% increase over the past five years.
Brands that incorporate UGC have a 20% increase in return visitors and a 90% increase in the time that consumers spend on their websites.
UGC images are also 81% more likely to convert.
There are several upsides to UGC for businesses, including that it is cheaper than traditional advertising, more relatable, and can help brands to be perceived as more authentic and socially conscious.
Authenticity is increasingly important to consumers.
Approximately 90 percent of consumers reported that authenticity played a factor in their shopping decisions, up from 86 percent in 2017.
Consumers are 2.4x more likely to find UGC more authentic than traditional branding.
Approximately 92% of consumers report that they trust UGC more than any other type of marketing content.
UGC is thriving on Facebook and Instagram, which may lead other social media platforms to incorporate UGC in the future.
Approximately 78% of marketing companies find Facebook to be an effective marketing tool, and 70% find Instagram to be an effective marketing tool.
8. The "Unbundling" Of Reddit
10 years ago the classifieds site Craigslist was essentially "unbundled" into dozens of separate niche verticals.
Dozens of huge companies were spawned, most notably Airbnb, Zillow, and Indeed (among many others). And now, the same is happening to Reddit.
Discord (now valued at $15B) carved the big first chunk out of Reddit as the "Slack for Gaming".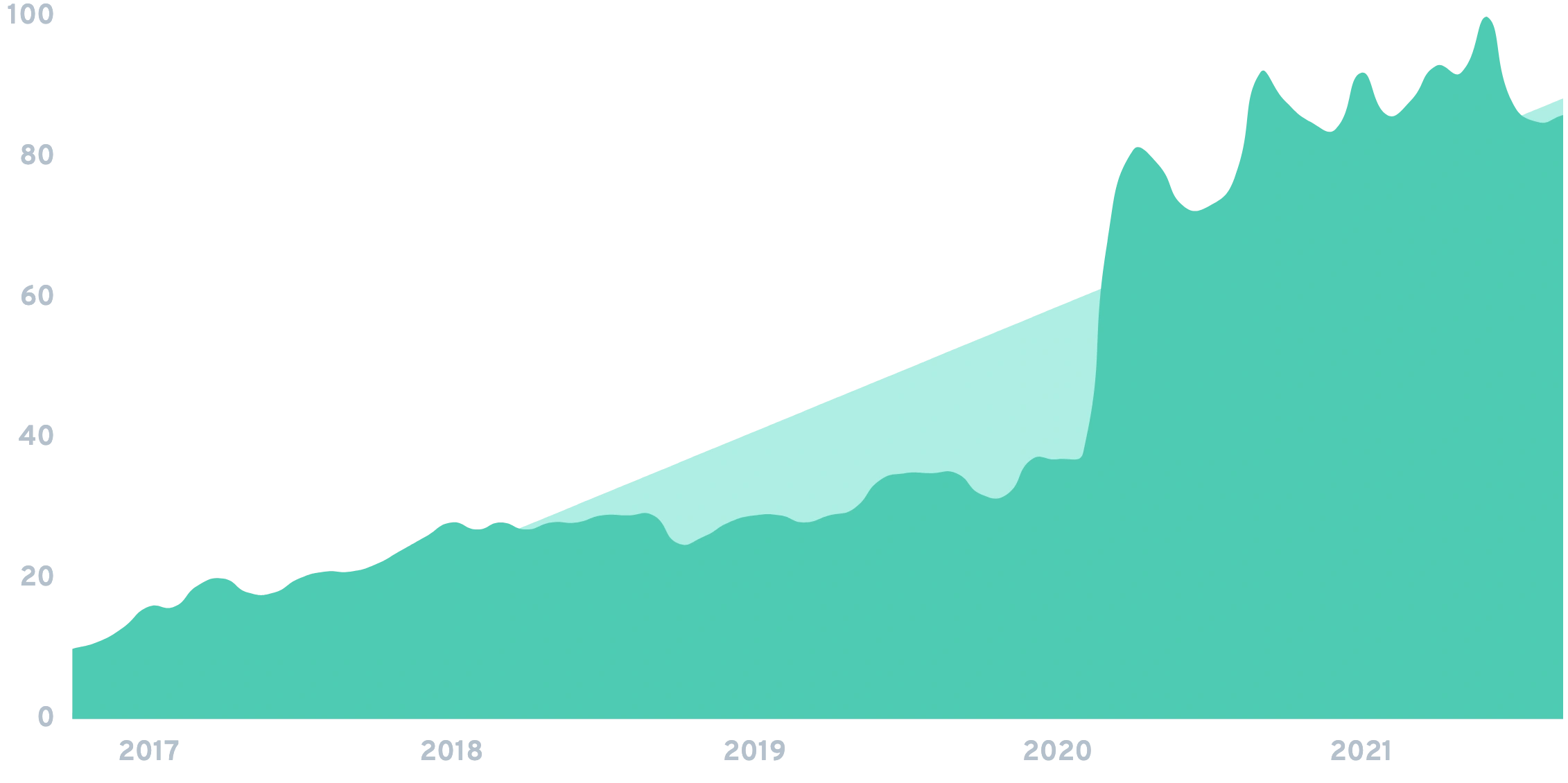 Search volume for "Discord" is up 760% (last 5 years).
It listened to the needs of the League of Legends gaming subreddit (r/LoL) and grew off the back of that community.
Their core offering became the de facto standard esports voice chat tool that gamers needed. And their branding really resonated with that specific community.

Which niches are next?
The subreddits that are most ripe are those that can benefit from custom features geared towards those specific users.
Another important factor is when a community is boosted by accountability, rather than the anonymity provided by Reddit.
Indie Hackers is a prime example of both of these things in play.
12k users flock to this online community made up of people that are "building online projects that can generate revenue" in public.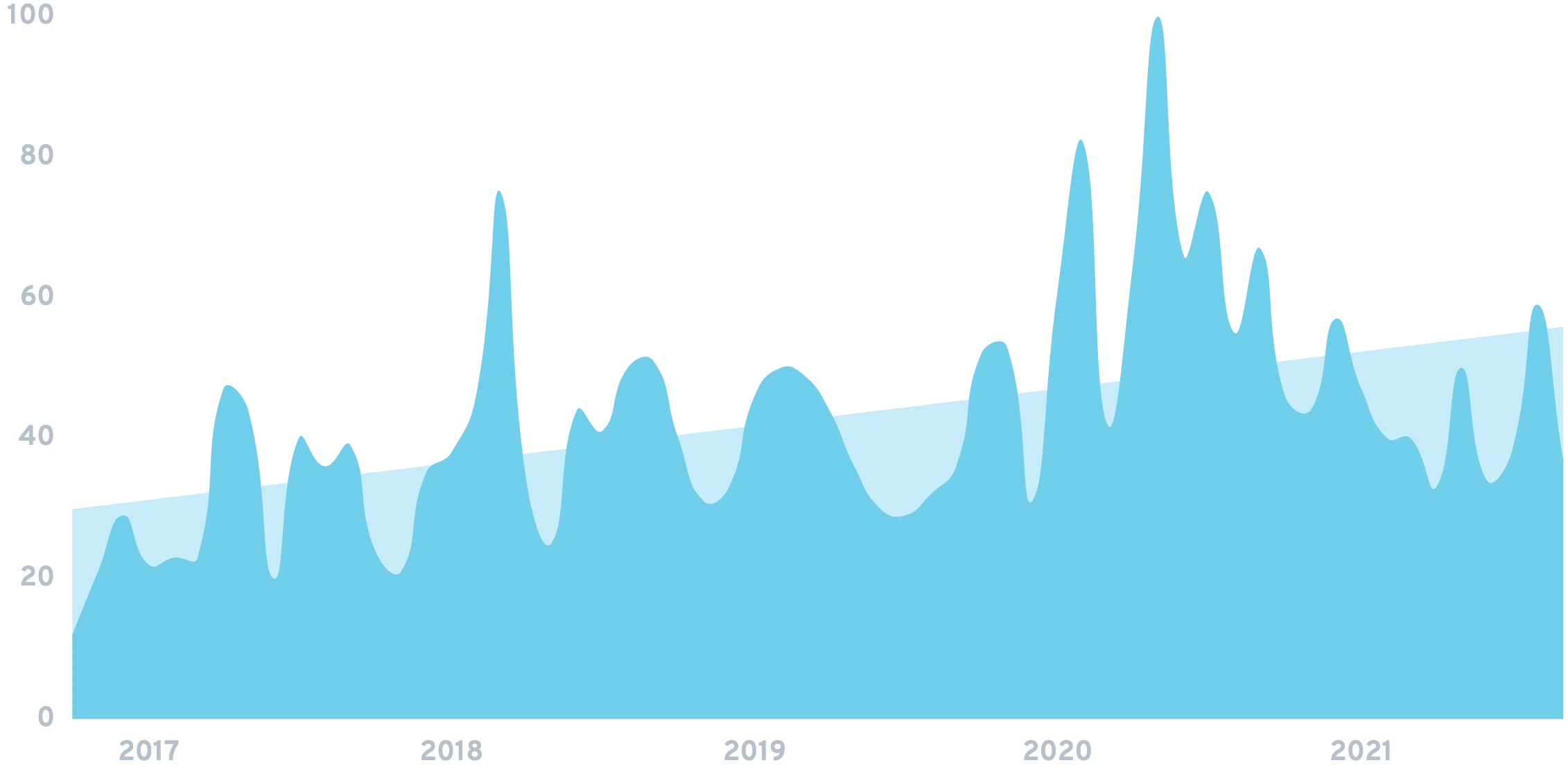 Searches for "Indie Hackers" is up by 208% over 5 years.
Reddit has plenty of communities like r/Entrepreneur, r/Startups and r/SideProject.
But many of the discussions that could happen in them are now happening on Indie Hackers instead.
This is because Indie Hackers has features that Reddit simply doesn't have.
For example, users can set up a custom page for their product, set goals, and document their business journey along the way.

Another successful niche social network with tailor-made features is Vivino. This online wine community has flavor profile selectors designed specifically for wine lovers.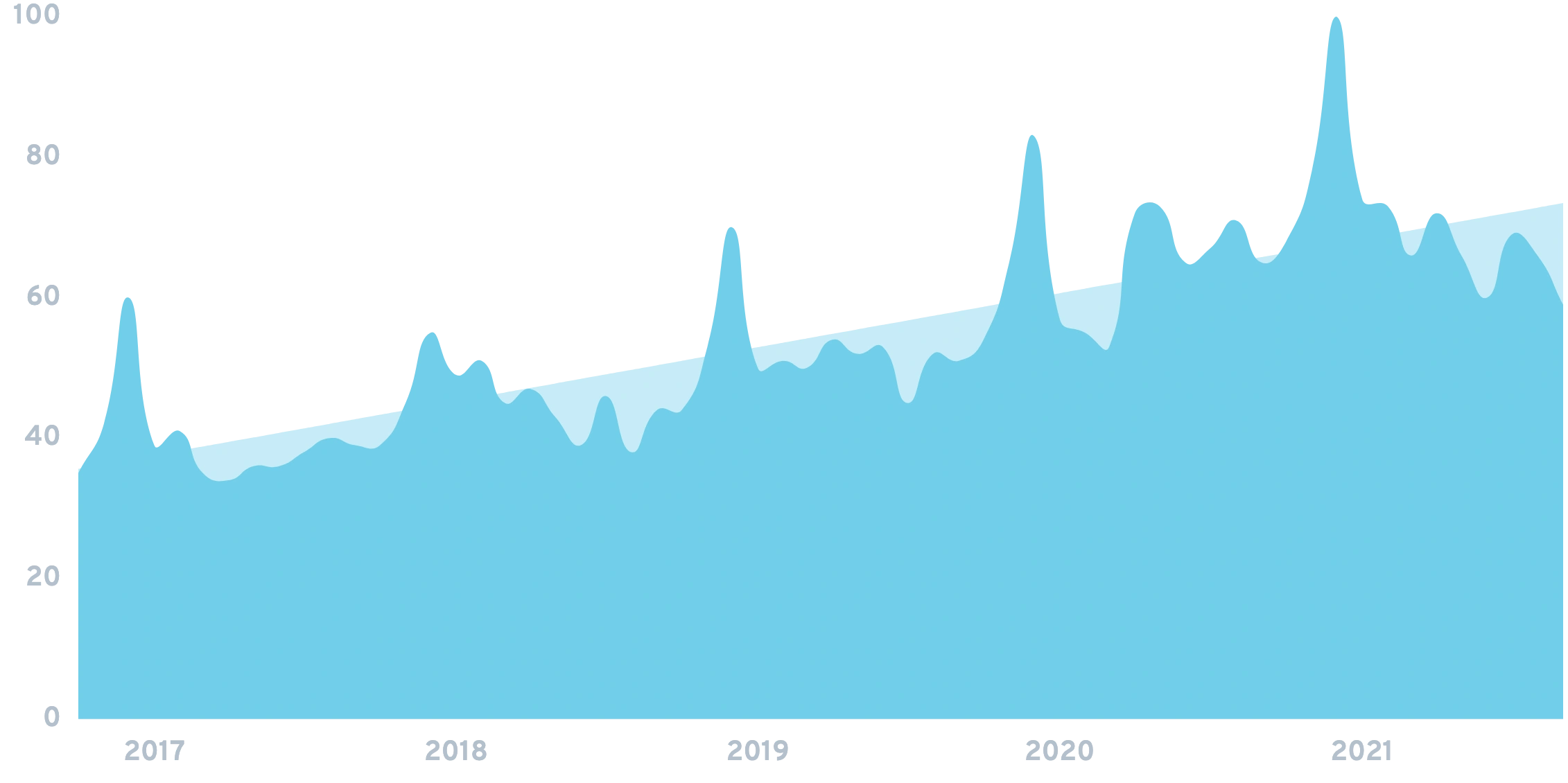 Searches for "Vivino" spiked in 2020 and and are up 68% over the last five years.
Conclusion
Social media usage is expected to remain on an upward trajectory over the next 2-3 years.
And social media giants (like Facebook, Instagram, and Snapchat) probably aren't going anywhere, despite emerging competition.
New features, such as ephemeral content, short-form videos, and AR, are ensuring that users stay glued to these top social media platforms for longer periods of time each day.
Growing engagement is projected to continue to fuel social commerce and generate revenue for businesses.
As a result, companies are expected to look for more ways to tailor their social media strategy around changes that these platforms roll out.